What to Expect of your care from Dr. Michael Gooing
Day 1 Handouts: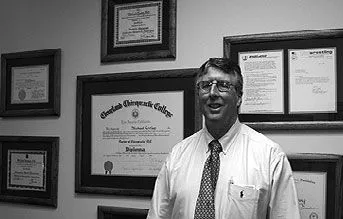 The most important aspect of a treatment program is the correct diagnosis. You are only aware of about 12% of your body conscously. You are not aware of the other 88% subconscously. The usual standard techniques of diagnosis rely heavily on your history and make upt o 80% of the criteria for your final diagnosis. This means that 80% of your diagnosis is based upon 12% of your body. Your body is a multidimensional organism with multiple systems interacting simultaneously. It requires a multidimensional approach using multiple techniques to access your subconscious brain while the other 80% of your body is beyond your perception.
The Steps Taken for Your Treatment
1."Talk to the Doctor Program" – Once you have called for an appointment you will receive a pre appointment consultation with the doctor so that we will be ready for you instead of you waiting for us.
2. A complete scan of your present and past history to determine your health.
3. A postural blood pressure test and a futrex physical examination of your body content.
4. A homeopathic examination using multiple techniques which will or may include
-Quantum Reflex testing on all your organ meridians and teeth
-Applied kinesiology and muscle testing
-Neuro-emotional trauma testing
-Cold laser frequency testing
-Nano Nutritional testing
-Lastly testing your pH
Your diagnosis will be based upon all of your findings and available medical records. It is important that you give us full disclosure of all possible episodes that may have contributed to your condition. You may even want to sit down and journal your thoughts for a few days before your visit and email them to me to review in advanced.